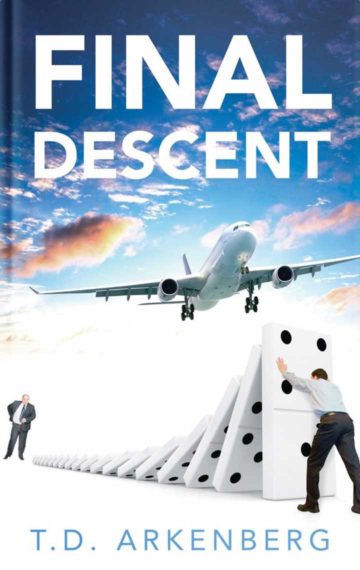 $16.95
Publisher:

Outskirts Press

Available in:

Hardcover, Paperback, Kindle

ISBN:

1478700599

Published:

October 25, 2013
Amazon
Barnes and Noble
eBay
First Class Betrayal… Everyone hates the airlines, and Intercontinental's no exception. Economic headwinds, executive infighting, and a concession-weary workforce generate turbulence, feeding the media and Congress a diet of sensational service failures.
Richard Weston, Chairman and CEO, will use any means to crush dissent. His goal? Keep the company airborne long enough to sell it. Leaks of his scheme could send the airline into a graveyard spiral. Charting a course of deception, Weston enlists the aid of diabolical, Ingrid Shattenworter. The pair tap grizzled company veteran, Hap Sweeny to polish the airline. And Sweeny's got just the guy to calm employees, Jim Abernathy, a young idealist who loves Intercontinental as much as Sweeny – perhaps more. Jim has an adoring wife, Julie and a satisfying job. One thing's missing – a baby. Getting pregnant is their top priority, but Julie fears Jim's job will make him an absentee parent, or worse, send him to an early grave like his father. Ignoring his wife's warnings, Jim accepts Sweeny's offer, pulling away just when the couple's goal is within reach.
At work, forces conspire; the current culture won't surrender without a fight. And rather than pacifying employees, Jim stirs them up. Weston commands Sweeny, torn between love of the airline and loyalty to his boss, to rein in the maverick before the place ignites. A flight to Frankfurt provides the stunning climax. A story of love and betrayal, the book appeals to anyone who's toiled in the corporate world, juggled home and work, or stepped onboard a commercial airliner. For his debut novel, Final Descent, Todd Arkenberg tapped into his two-decade career at a global airline. Todd has an MBA from The University of Chicago and a BA in Literature from Northwestern University. Active in Chicago's two oldest writers workshops, he lives with his spouse in his boyhood home.