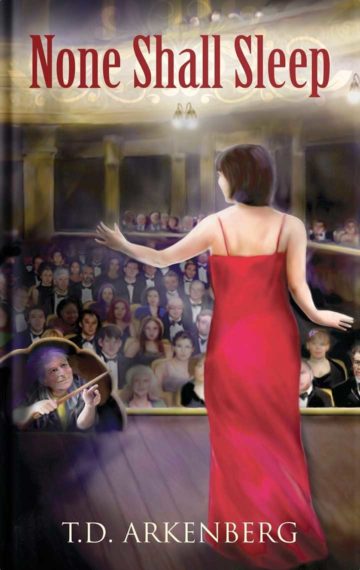 $19.95
Publisher:

Outskirts Press

Available in:

Hardcover, Paperback, Kindle

ISBN:

1478762314

Published:

January 13, 2016
Amazon
Barnes and Noble
eBay
The third Novel from T.D. Arkenberg
Opera is Life! And life is opera. None Shall Sleep parts the curtain to reveal lives drawn together by one woman's dream to sing. Isabella Fabrini, a discouraged Argentine-bred consultant living in London, has little to show for her forty years but a sputtering career, a string of unsatisfying relationships, and layers of cynicism.
Her bold plan to reinvent herself as an opera singer has unintended consequences even before the reluctant diva sings her first note. "Every Italian town worth its weight in pasta has an opera house," Isa says as she plans her debut. San Benedetto is no exception. The faded spa town of Isa's birth, with its nineteenth-century theater, provides the setting for concert weekend, when anything can happen. Those gathered to hear Isa sing are as colorful as characters created by Puccini or Verdi. Their mirth and mayhem rival any opera libretto. There's Telma Rossi. The fiery temptress stole Isa's fiancé but wants more-a chance to steal the spotlight and maybe crush Isa again.
Luca Caruso, a dashing restaurateur who fell in love with Isa at the start of her musical journey but harbors a painful secret, which sabotages their relationship. Can concert weekend liberate him from his tragic past? None Shall Sleep is a story of hope, perseverance, friendship, and love that will captivate anyone who's ever dared to dream big. The novel was a 2014 semifinalist in the prestigious Faulkner-Wisdom competition.
Honors & Acknowledgements
Shortlist Finalist, Novel in Progress: Faulkner-Wisdom Literary Contest
Semifinalist, Novel: Faulkner-Wisdom Literary Contest
Finalist, Contemporary Novel: 10th National Indie Excellence Awards